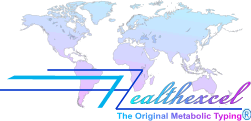 MetabolicTyping.info
Welcome to Healthexcel's Metabolic Typing® - the leading edge in individualized, customized nutrition and ecological lifestyle programs.
As a research-based organization since 1987, Healthexcel is the established leader and registered trademark holder of Metabolic Typing®. There is only one genuine, real, true, official Metabolic Typing®.
In addition to conducting research, Healthexcel provides technical consulting services to health professionals engaged in nutritional counseling and ecological lifestyle management. The company offers advanced computer-based services that enable health professionals to evaluate the highly individualized dietary needs of patients and clients, and to provide customized dietary programs to meet genetically-based requirements.
Healthexcel provides Metabolic Typing® research, a series of computerized Metabolic Typing® analyses, designing of Metabolic Typing® customized nutrition and ecological lifestyle programs, Metabolic Typing® training and certification for health professionals, turn-key Metabolic Typing® systems for health professionals, and international Metabolic Typing® consulting services.